Love is cheap. Desire sells products.
Okay, we've written about Love and Love Brands before (spoiler alert: it's really just 'like'). Truth be told, love is not what you're after.

Why?
Love is patient, love is kind, but it's not exciting. As food marketers, what we want is desire. Desire arouses us, causing us to take action: top-notch food photography's called food porn for a reason. Desire sparks salivation, titillates the imagination, jump-starts purchase motivation.
So how do you create desire?
Step One: Eye-catching food photography is the first (and most important) step. If you want to slip into consumer's carts, you must stimulate/infatuate their food libido. This is not the spot to cut corners – a perfectly prepped, propped and lit product shot's worth every penny spent. Its purpose is to tell a visual story that brings back memories, creates cravings, and generates a genuine hunger for your brand. Cold drink glasses sweat. Hot tea steams. Juicy burgers and steaks sizzle. And decadent death by chocolate desserts need to look every bit as ooey, gooey, delicious as they are.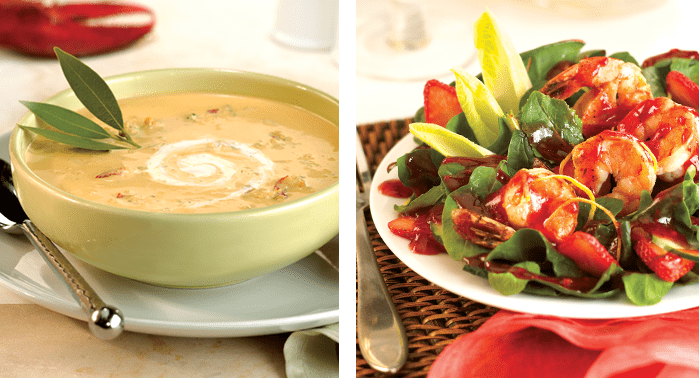 Step Two: Whisper sweet nothings in their ear. Just like a romance novel's "language of love," there's a language of lust for every food — category-specific words that build upon and support your images (hey, everyone needs a smooth-talking wingman). If you nudge consumers in the right direction, they're more likely to see things your way:
tender, juicy chunks of grilled chicken
thick, richly marbled steak
smothered in rich, creamy sauce
tart 'n tangy wild berries
crisp, refreshing fruit juice
rich, dark chocolate
bright, refreshing sorbet
light, delicately-hopped lemon shandy
salty-sweet caramel crunch
Seduction's an art form that comes in many flavors. And by combining the right words and images together, you can create nearly irresistible product appeal.