Having been in CPG marketing, and primarily working with food brands, for nearly 30 years, there have always been certain constant pivotal drivers in consumer purchasing — the "go-to"s that always drive consumer response. Well, things are changing. In fact, there has been a definitive paradigm shift that all marketers should be paying close attention to.

As food marketers, we know that traditionally, consumers are driven by: Price, Taste, Convenience, and Innovation–or any combination of these. And it's not that these aren't still relevant, but here's what's now playing a stronger role in influencing consumer purchase: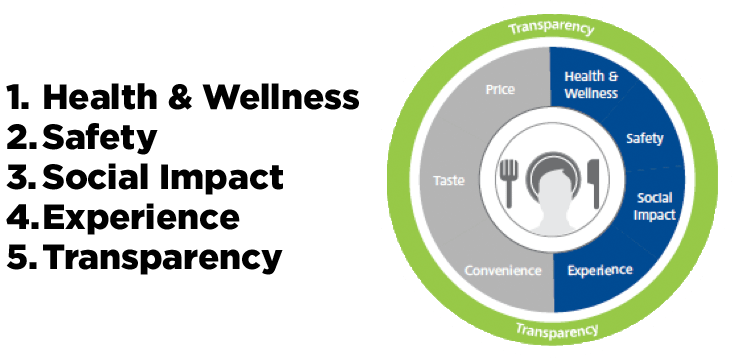 These drivers may or may not mean what you think they mean…
Health & Wellness

This is the most important and complex of the 5 new drivers. It can entail nutritional content, organic certification, all-natural ingredients, and clean-label considerations.
Safety

This is both short and long-term consideration, for instance: will this make me put on weight? Or, will this impact my health 20 years from now?
Social Impact

Local sourcing, sustainability, animal welfare, and even fair treatment of employees play a part in how consumers will relate to your brand.
Experience

Consumers don't want to go to the grocery store anymore. They want a shopping experience, that includes store layout, customer service, product innovation, brand interaction, and personalized engagement—all throughout the path to purchase— at home, on-the-go and in-store.
Transparency

Consumers want to know everything. And know it now. Authentic transparency requires clear ingredient and nutritional labeling, sourcing, certifications by trusted third parties, and brand access.
Another interesting fact is that these same consumers don't necessarily align with traditional demographics, psychographics, geography or even generational groupings—they are pervasive across the board with consumers. The era of one-dimensional targeting is long gone.
This shift didn't come about overnight. It has been evolving, along with the age of information. Consumers have an unprecedented ability to access information about products and brands and share this information, as well as their opinions. And unfortunately, there has been a growing distrust of the food industry at the center of this behavior shift, in spite of the fact that retailers and manufacturers are more transparent now than any other time in history.
Price, Taste, Convenience, and Innovation will always impact consumer behavior. However, today's shoppers have a much more holistic perspective on what motivates them to purchase your brand, and more importantly, what will keep them loyal to you.
How is your brand measuring up against these new purchase triggers?
Source: 2016 study by Deloitte Consulting LLP, in collaboration with the Food Marketing Institute (FMI) and the Grocery Manufacturers Association (GMA). 5,000 consumers nationwide surveyed.