Fact: The majority of people prefer to watch instead of read.
Don't believe it? Try this on:
YouTube is the 3rd most visited website–with over 2 billion views per day
Over 829,000 videos are uploaded every day
YouTube is the world's second largest search engine after Google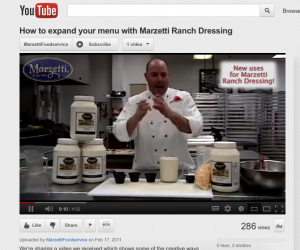 Yes, it's a fact; online video content has become a powerful tool to market your brand or service to foodservice professionals. Video is one of the hottest resources for restaurant entrepreneurs, managers, chefs, and buyers. Videos are being developed for new product introductions, recipe demos, training, creative tutorials, education, and much more.
Think you can't afford video? You can't afford to not do video. The fact of the matter is video production costs are more affordable than ever. With higher quality video equipment becoming more accessible and affordable, many companies are even developing in-house. But even professional firms have adapted to the online video marketing phenomena, by creating special packages for online video.
Once you've produced your video, there are many effective marketing uses that can drive business for you:
Online Content for your website. Many food manufacturers have dedicated segments of their website for video content. Also, video will give your organic SEO a huge boost.
Video Sites and Social Media. Obviously, getting your video out there on sites like YouTube, VEVO, Vimeo, Facebook, Yahoo!, AOL Media, and others, is the way to get your video seen by millions–for free.
Foodservice Media. Online media outlets, such as MonkeyDish, QSR TV, and Foodservice.com are highly trafficked sites, and very effective for getting in front of your targeted audience.
Email Marketing. Research shows that when video is embedded in emails or e-newsletter, click-thru rates increase by over 95%.
Presentations. Adding video to your presentation is compelling and effective.
Public Relations. Use your video to reach bloggers, for online press releases, and video news releases.
These are just a few ideas for using video as a foodservice marketing tool. Video is an effective, easy-to-use, affordable tool, and very under-utilized by most organizations. Think about incorporating it into your toolkit.