As an avid pinner and marketing professional, I find the interest in Pinterest (yes, I can rhyme any time) as a long-term brand relationship builder fascinating, as well as personally vindicating. Years ago, I suggested a client of ours should begin posting images on home improvement boards to show aspiring homeowners the family rooms and kitchens their home equity loans had been — or could be — used for. Sadly, it went nowhere… but the seed had been planted.

Back then, Pinterest's primary use was wishing and dreaming. Jump to 2015, and the focus is shifting to planning. It's where my just-married daughter went to research her wedding dress, and where she printed the images from to take along when she went to the bridal shop to buy one.
And she's not alone. In a recent survey of Pinterest users, 93% of respondents said they use Pinterest to plan purchases, and 87% said it helped them decide what to purchase.
Want a shocker? Check out the purchase decision chart below. See the big green category bar on the left dwarfing everything else? It's Food and Ingredients… bigger than Hair & Beauty, Clothing & Accessories, even Home Décor.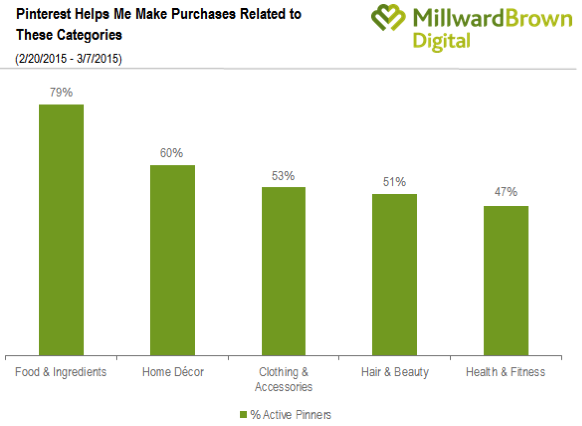 That's 4 out of 5 consumers being influenced to buy in a relaxed, low-key atmosphere while they are at their most receptive. And in the age of long-term content marketing, isn't that exactly where you want your food brand or product to be?
Of course it is. That's why more and more of our food industry clients are taking our advice to add Pinterest boards and pin sharing to their marketing mix. Because the way to consumers' hearts (and shopping carts) is being in their heads long before they leave for the store.