You've heard about Pinterest and that it's the new "big marketing idea," but you may be wondering just how to really make it actionable. There are many companies out there giving it a try: Country Outfitters, Wilton, and Naturalizer, just to name a few.

But how is Pinterest applicable for Food Marketing? That's easy – Appetite Appeal!
Food marketing is all about making people hungry. And Pinterest offers the perfect way to accomplish exactly that. Just ask your loyal customers (and soon-to-be-loyal customers) to pin recipe images for your products.
We've been working on plenty of client promotions that encourage pinning and repinning lately.For instance: Imagine you are running a summer picnic campaign. As part of it, you can run a Pinterest promotion offering the winner a trip to a place where they can have amazing picnics. Suggest that each of your customers create a board about summer picnics (one entry to win), and that they post anything and everything about their perfect summer picnic, including a picture of your product/recipes (another entry to win). All of their "followers" on Pinterest will see the yummy [your company name here] recipe images, and repin them (for yet another entry to win).
Now your mouthwatering product has been shared three times, making people hungry for your product. And you didn't do anything but kick things off!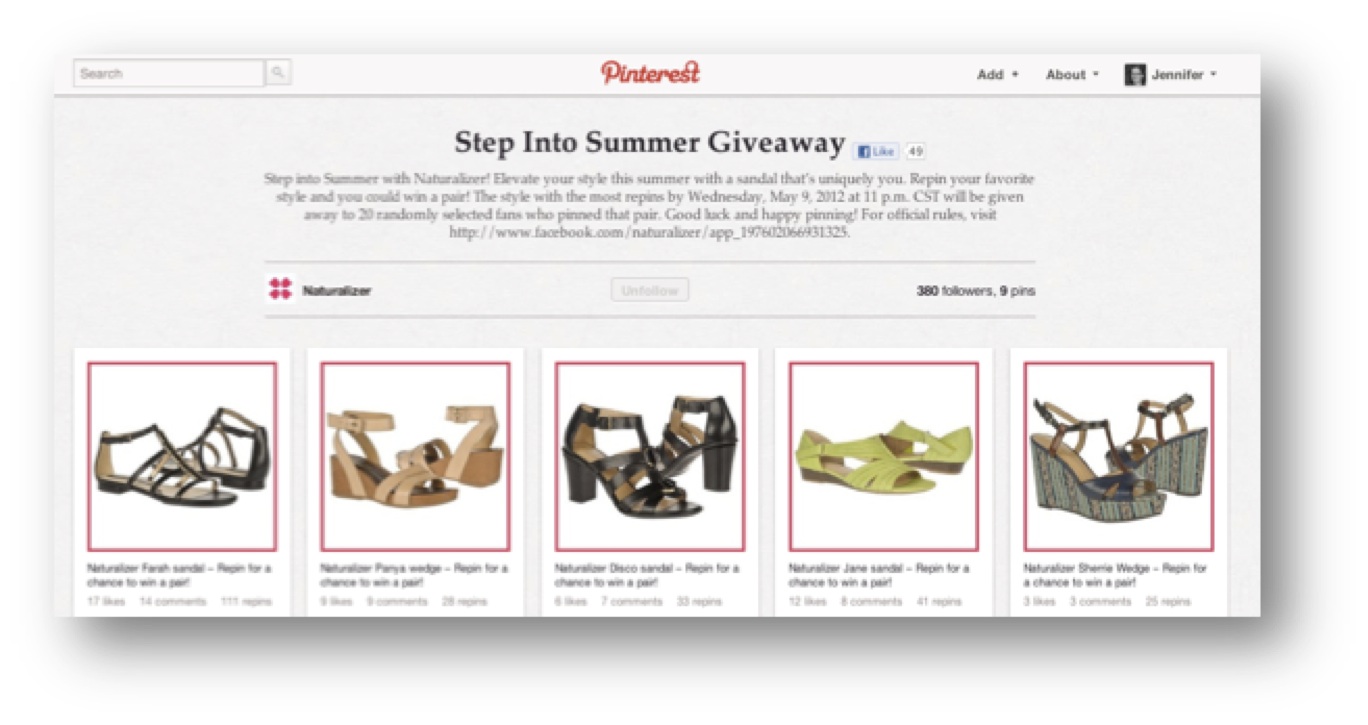 An even simpler way to implement a "Pin it to win it" promotion is the way Naturalizer did it — pin your favorite pair of shoes, and you're entered to win. (I pinned the black sandals.)
The one tricky part to Pinterest campaigns is making sure people get entered properly, so you can track their activity. Pinterest makes this relatively easy by offering tools for monitoring the pinning and repinning of your brand.
Pinterest is just plain fun, and a great way to connect with your consumers on their own level – by making them hungry for your products.
P.S. – don't forget to tie your promotion to Facebook, for even more reach!