Just about a year ago Dole began their "366 Ways to Go Bananas" or "A Banana a Day" promotion to support their three-year-long "Go Bananas" concept. The overall goal is to encourage Americans to use and incorporate bananas in their diet outside of just breakfast and lunch– which would increase the overall sales of bananas.

I read a brief recap on the promotion (though results aren't measured/published yet) on Path to Purchase and began looking up information immediately, as I was impressed with how full-circle this initiative seemed to be.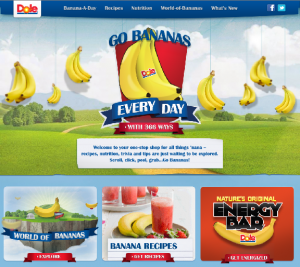 Dole identified the issue that people were primarily eating bananas for breakfast and lunch. Their opportunities were obvious enough, encourage the use of bananas for all meals and snacking, but it was the execution that was impressive. A microsite, social media accounts, recipe and serving suggestion development, in-store promotions, national tour, retailer and film partner promotion, blogger outreach and sticker QR code activation all pulled together to make this happen.
A microsite dedicated to A Banana a Day including bananas recipes, serving suggestions, nutritional information, links to their Monday Funday Facebook promotion, and a link to their Twitter account where a new way to go bananas was posted daily utilizing the hashtag #Go366.\
According to a post on groceryheadquarters.com, Dole's summer focus of "Nature's Original Energy Bar" paired with Dream Works' Madagascar 3 with QR code stickers on product in stores nationwide.
I think that all of Dole's efforts in 2012 are a great example of a strategic 360 degree campaign that fits into a larger three-year campaign. They identified the issue and their opportunities, broke it down into ways to communicate their message across multiple platforms, and connected it back to their previous years' efforts.
I know it's only the third day in January, but the microsite is still active and they are still tweeting. Could the banana shenanigans continue on through 2013?