I recently read an article, "Chiquita Goes Mobile with Little League Baseball" , that immediately had me cheering: "Way to think outside of the box Chiquita!" " Great idea!" "Perfect target!". Chiquita bananas have been a long-standing favorite of mine; the perfect fruit, with its own wrapper, sweet, not messy, great grab-n-go snack. With four active kids, it was often a fruit I picked up as the snack mom providing something nourishing for the team. When I read that Chiquita Brands had leveraged a three-year partnership with Little League Baseball, I was excited! They have stepped into the perfect fit – Mom's shopping for healthy choices for their family, parents providing snacks for sports teams, kids wanting a grab-n-go, fun snack.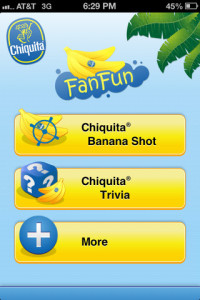 In addition to partnering with Little League Baseball, Chiquita launched a summer 2012 mobile promotion, their first time to bat in the social media space. This "FanFun" Sweepstakes included in-store initiatives, and online and mobile ways for customers to interact and win prizes. Also released was the new multi-platformed smartphone Chiquita FanFun App, free through iTunes and Android/Google Play markets. The app provides fun trivia and arcade games, a store locator to find Chiquita retailers, and a store check-in function. For the baseball and softball players in the family,consumers can create their own Little League trading cards and share them on Facebook.
Chiquita Brands is committed to Improving World Nutrition as a leading international marketer and distributor of high-quality fresh and value-added food products. Being named the "Official Fresh Snack of Little League Baseball and Softball" has furthered their efforts in this commitment.
Through this promotion, Chiquita had over 4,000 retailer locations displaying point-of-sale materials, 45,613 entries into the FanFun sweepstakes, and over 150,000 unique visits to the landing page. With 20% of the registered users checking in at participating retailers to enter the sweepstakes and 40% creating the Little League cards and sharing through social media. This promotion has been a big win for everyone involved.
Chiquita stepped into a new game and gave it their all, reaching a wide area of influence and keeping their interaction with consumers fun and up-to-date! Home Run!