A look into what brands have done and can do on the new video platform
Brands have been looking closely at TikTok for years as it's grown into one of the largest global social media platforms, only behind Facebook, Instagram, and YouTube. For years it was seen as a fad—the next Vine or Musical.ly. Today it shows no signs of slowing down. As with all new platforms, the demographics skew young and it's still full of questions. Brands have hesitated to join because the ROI data isn't clear, they don't "get it," they're waiting for its privacy issues to be resolved, or they just don't see it as their market. However, 2019 marked the year when multiple national and international brands jumped in the deep end, and it's looking like 2020 will be the year that pool gets crowded.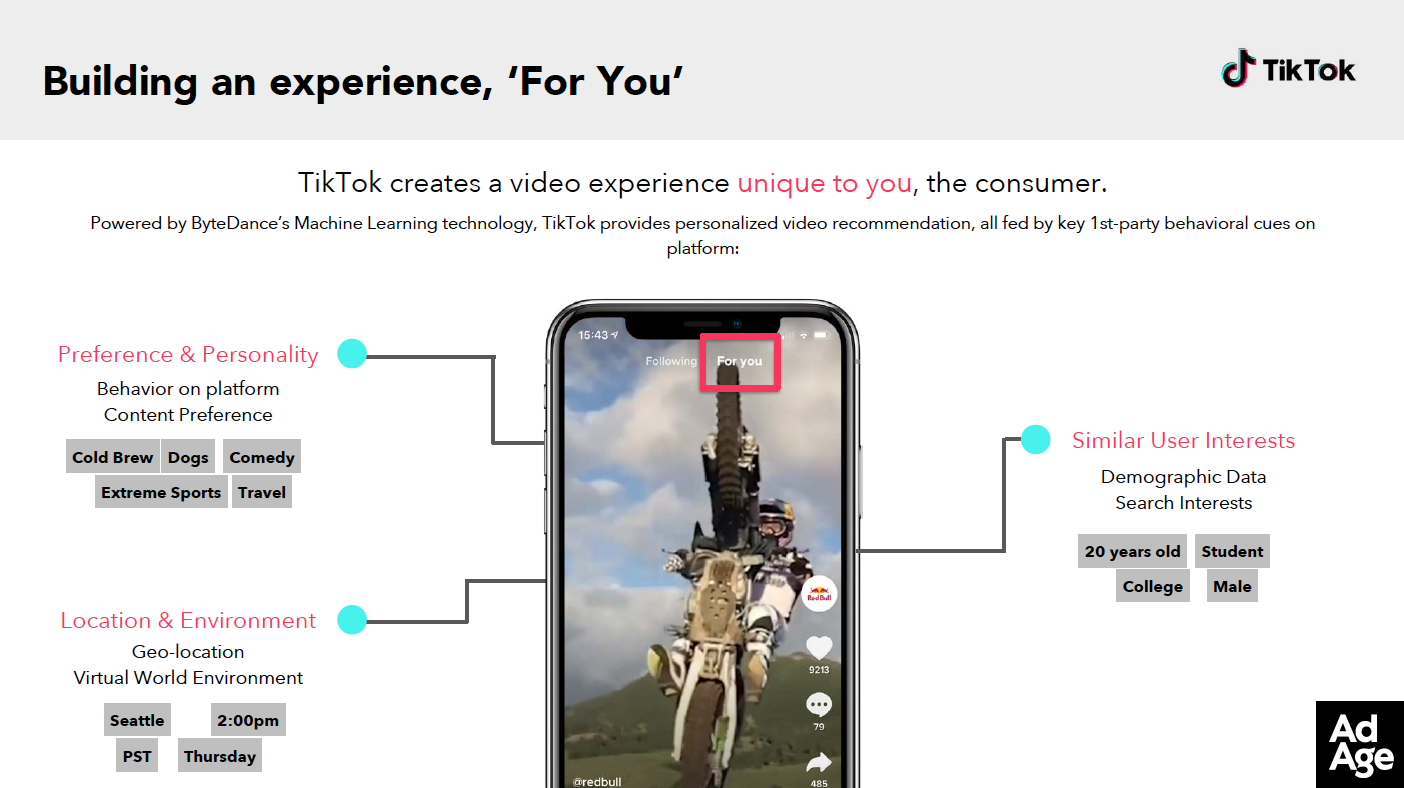 Via Ad Age
How TikTok Works
When someone logs into TikTok they're immediately fed videos from the For You tab, an algorithm-based feed that determines shown content based on mysterious factors, likely including geography, watch time, repeat watching, commenting, liking, and sharing. Next to the For You tab is the Following tab for videos from followed accounts. Similar to Instagram, it also has a Discover tab on the bottom bar to search for accounts and see what's trending. Over time, the app (ideally) molds to what it thinks people like so they're constantly delivered a range of customized content.
Creators use hashtags, trending sounds, filters, and effects to "go viral" by being caught in the For You algorithm, but no one knows for certain what will work. The app appears to reward clear facial recognition, earnestness, engaging captions, unique content, and attraction/aesthetic. Many companies are trying to get on top of the algorithm, such as Pentos, which tracks viral audio tracks, hashtags, and posts to help users see what's currently trending to increase their chances of catching the wave.
One of the biggest drivers to its success has been the accessibility to its content. Most users allow people to download their videos, which leads to them getting uploaded natively to Twitter, Reddit, Instagram, and Facebook, so millions of users see the TikTok logo and the creator's username. This gives it an advantage over a YouTube link, which can't be directly downloaded and reuploaded to another platform for easy views or shares.
TikTok By The Numbers
TikTok certainly still skews young as of early 2020, but those demographics are expanding more every month into millennial territory and beyond.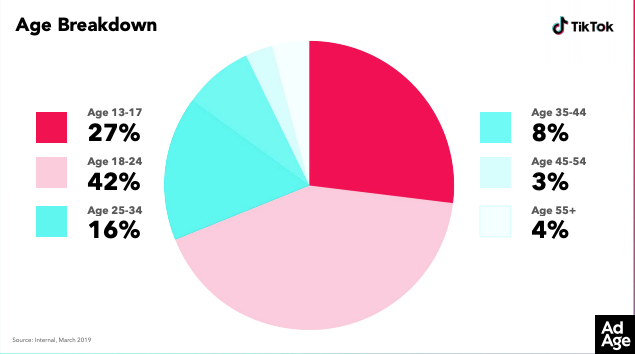 Via Ad Age
TikTok was one of the most downloaded apps around the world in 2019 and as of January, 2020 it's been downloaded over 1.5 billion times with recent reports claiming it has 500 million to 1 billion active monthly users, of which around 40 million are based in the U.S. For reference, Instagram has around 100 million and Snapchat has around 80 million monthly U.S. users.
Read this Business of Apps article for more TikTok statistics 
TikTok Controversy and Criticism 
TikTok has been heavily criticized by every age demographic (other than the gen-z and alpha kids who inhabit it) for everything from content preferences since the majority of videos are kids lipsyncing and dancing (although it offers much more than that) to serious privacy and censorship concerns related to the Chinese government since it's owned by Chinese tech giant ByteDance.
Whether these problems are maliciously intended by the company or just run-of-the-mill issues that newly emerging tech giants face is still up in the air. Although criticism persists, both people and brands are continually joining and becoming more comfortable with the platform.
Brands That Have Campaigned On TikTok 
TikTok offers a generic "Brand Takeover" feature for advertisers, which acts as a massive click-through ad when users log in, but the most common approach for brands has been the The Hashtag Challenge, which encourages them to come up with a trending hashtag that gets users to participate, sometimes not even knowing they're making UGC.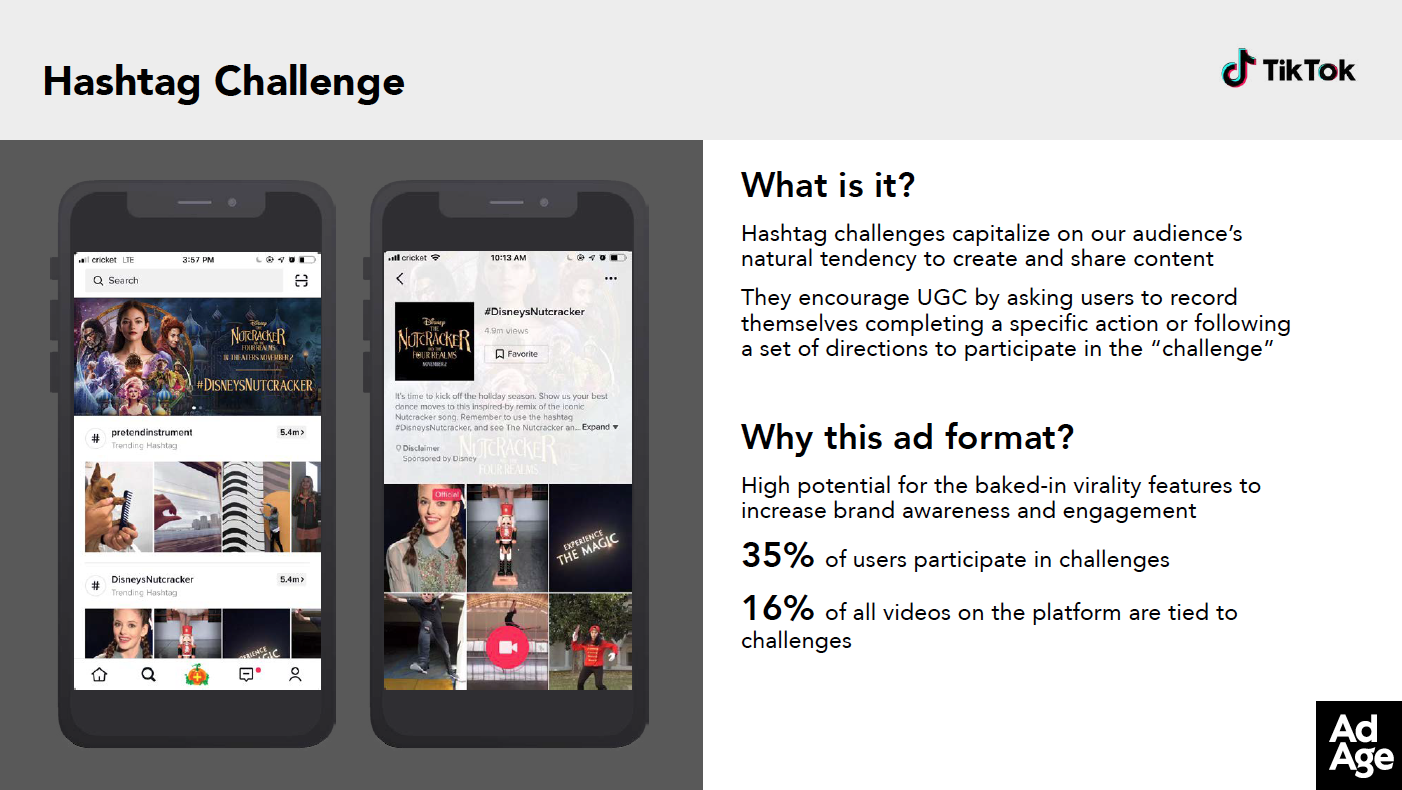 Via Ad Age
Some notable Hashtag Challenges have been Guess' #InMyDenim, which was the first U.S. branded partnership with TikTok, Chipotle's #GuacDance, which generated over 250k videos in a week for National Avocado Day in 2019, and more recently, Oreo's #WhatsYourStuff, iHop's #SyrupTurnUp, Wal-Mart's #SavingsShuffle, MAC Cosmetic's #YouOwnIt, and Elf Cosmetic's #EyesLipsFace.
Outside the platform's direct advertising options, many brands have begun partnering with creators on TikTok. This integrates content into user feeds in a way that feels seamless and comfortable, since the creators often control the content itself. Both Chipotle and Elf Cosmetics have partnered with Brittany Broski AKA "kombucha girl," and Tarte Cosmetics has partnered with Addison Rae, one of the head zoomers of The Hype House.
Guess, MAC, and Elf Cosmetics aren't the only fashion and beauty brands who have found success on the platform. Calvin Klein has run successful ad campaigns and Fenty Beauty curates a creator-esque beauty feed as well.
Brands That Have Found Their Voice On TikTok 
Outside traditional digital advertising like paid promotions and partnerships, many brands have created an active presence on the app, similar to Twitter or Instagram. Sports and Media brands have had massive success in this area. Virtually every prominent sports league, team, and media brand has joined. The NFL and NBA both make trending videos out of game highlights, player interviews, and candid moments. The NFL also just partnered with Charli D'Amelio, another lead zoomer of The Hype House. Mascots also flesh out their personalities, notably Benny The Bull of the Chicago Bulls, and Gritty of the Philadelphia Flyers. 
Barstool Sports and Cheddar have found success by posting a range of curated content, Teen Vogue shows off behind the scenes looks at public figures they feature, Netflix posts clips from their streaming content and candid clips from the actors, The Washington Post has developed a unique persona tailored to TikTok's culture by producing skits involving their employees headed by Dave Jorgenson, and USA Today has implemented a similar approach from inside the newsroom.
Outside these categories, The San Diego Zoo has made an impression by making cute and funny animal videos that align with current trends on the app, Flex Seal has accumulated a following with their meme-centric presence, and Crocs has as well through creator partnerships and hashtag challenges.
Food brands are getting more active on the platform, but very few are producing content that feels native to the platform, in contrast to Brand Twitter, which is uniquely dominated by personified food brands such as Wendy's and MoonPie. Arby's has continued their brand voice of niche anime and gaming by partnering with popular cosplay creators Mishkalii and Svattii. Gushers has amassed a following by partnering with creators and producing skits. Red Bull posts extreme sports clips from other video platforms. Taco Bell mostly posts produced ads tailored to TikTok. All these brands are successful, but most of their videos still feel like ads.
Wendy's has partnered with a few creators and produced some content that feels native to the platform, but smaller brands make up the majority of experimentation in this area. Bugles produces fun product-related videos that blend into the average feed. MOD Pizza creates video skits based inside their restaurants and Warheads does the same with their products. Steak-umm recently joined the platform, producing personified content as well (full disclosure: I'm the social media manager for Steak-umm).
There are dozens of brands with inactive or empty feeds, and hundreds with no account at all. The official pages of McDonald's, Pepsi, Mountain Dew, Panera Bread, and countless others are completely vacant. Funyuns' page has been abandoned for almost a year, Burger King's for almost 2 years, Kit Kat's since 2016. Pizza Hut has posted a total of 4 videos. It seems that many brands have dipped their toes in then had second thoughts about investing resources just yet.
TikTok Is Still The Wild West For Brands 
Although the platform has been around for almost 4 years, TikTok has only recently become mainstream enough for brands to pay attention to. It's similar to how Twitter was in 2012-2017 before Wendy's made it a household brand-building platform with their roasts heard around the world. For years, Twitter was viewed as high risk for brands to play with because of it's real-time, conversational nature, but eventually the state of advertising adjusted. With immersive video-based platforms like TikTok and Twitch, many brands are now experimenting with this next phase of digital personification.
There has yet to be a game-changing brand hit TikTok like Wendy's did on Twitter, but 2020 will likely be the year that changes.