How much time does it take to engage an audience? A rodeo bull rider gets it done in 8 seconds: 1,200 horsepower nitro-burning fuel dragsters do it in under 5.

Bearing that in mind, 15 seconds should be plenty of time for a social video, right?
That's the thinking behind the new 15 second social networks that are popping up, like Viddy and Tout. Optimized for mobile devices, they take advantage of the increased use of smartphones for primary web access across all age groups. Not only do the new networks make it easy to upload video clips, there's less competition for viewers than on YouTube or Facebook (although instant sharing to both social giants is built into both Viddy and Tout).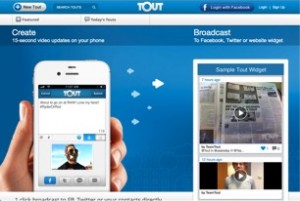 Justin Beiber, The View and LIVE! with Kelly and Michael all connect with their audiences through 15 second networks. Fashion brands 7 For All Mankind and Diane Von Furstenberg promote products and events on Viddy. And everyone from Southwest Airlines to MTV run contests on Viddy, and country queen Taylor Swift has a contest on Tout.
You can check out whether 15 second videos will be good for your social mix by visiting Viddy or Tout.