Mrs. T's Pierogies
Challenge
Mrs. T's is the largest pierogy brand in the country. As with many legacy brands, Mrs. T's had a strong consumer base, but needed to drive growth among light users, non-users and millennials—as well as expand into new geographical markets. Driving awareness and trial was key, as most consumers are unaware of pierogies.
Strategy
Several creative approaches were developed and tested to gauge consumer appeal, relevancy, and intent. The winning concept was "Mrs. T's Pierogies — Stuffed With the Stuff You Love," a nod to pierogies being pasta pockets stuffed with all types of tasty ingredients.
Utilize traditional radio for mass reach in core market DMA's
Create high reach/frequency digital campaign to drive awareness and conversion through an integrated approach with sequential messaging
Use geography, lifestyle, and purchase data to target consumers who are likely to be interested in pierogies
Built warm audiences and machine learning to find new consumers who are likely to engage with Mrs. T's or purchase pierogies
Geofence store locations, utilize pixels and tracking technologies to send targeted advertisements across devices to reach users at multiple touchpoints
Website
The website was redesigned to integrate brand campaign elements, add fresher, more contemporary wording, and create over-the-top appetite appeal.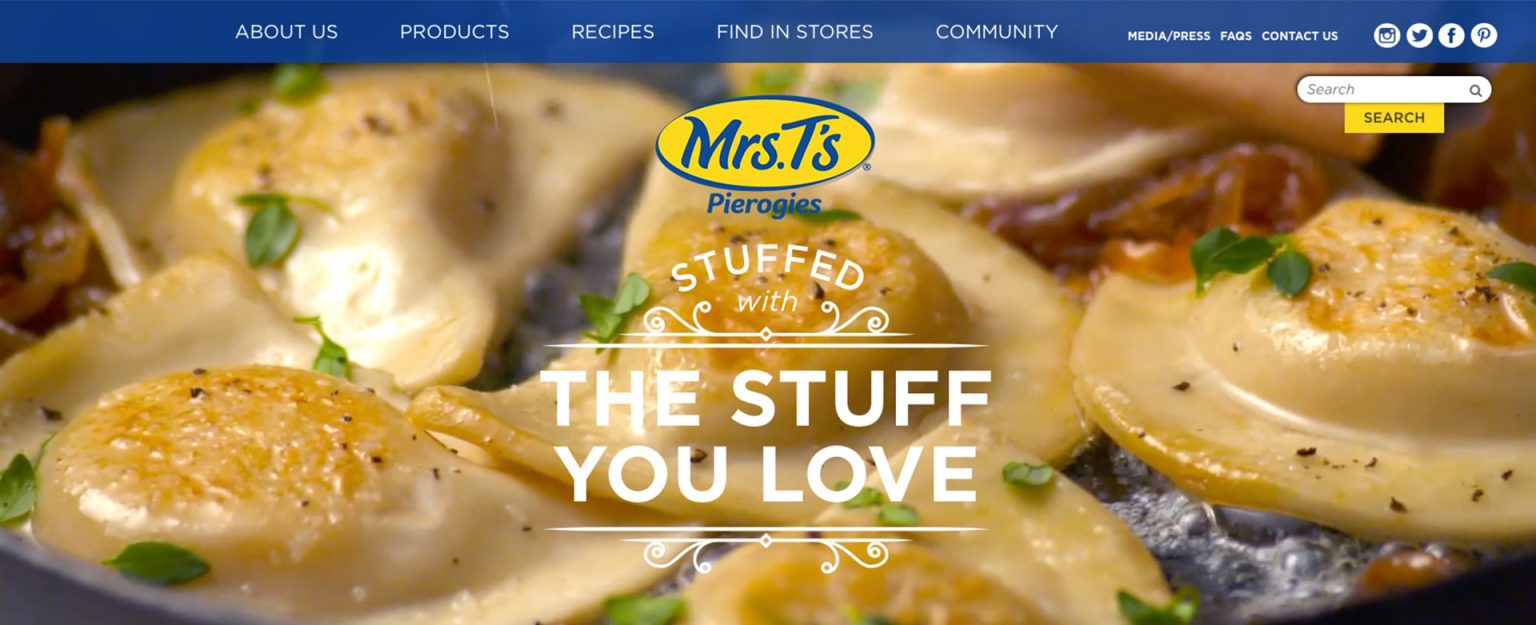 Video
:30 and :15 videos were developed for pre-roll advertising and social media to introduce the new campaign — and re-introduce Mrs. T's Pierogies to a new generation of pierogy lovers.
Social & Digital Display Ads
Usage and flexibility were stressed, as was the idea of enjoying Mrs. T's with the people you love.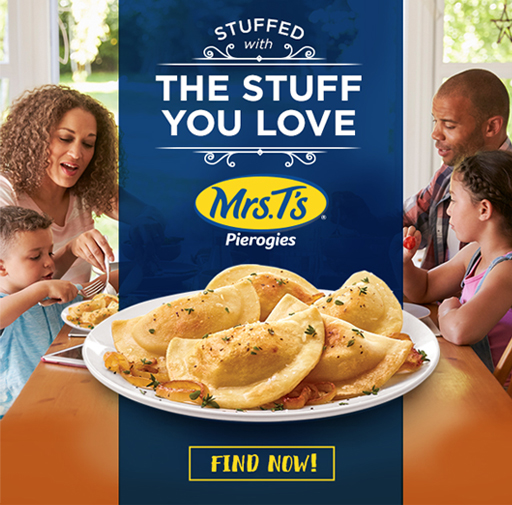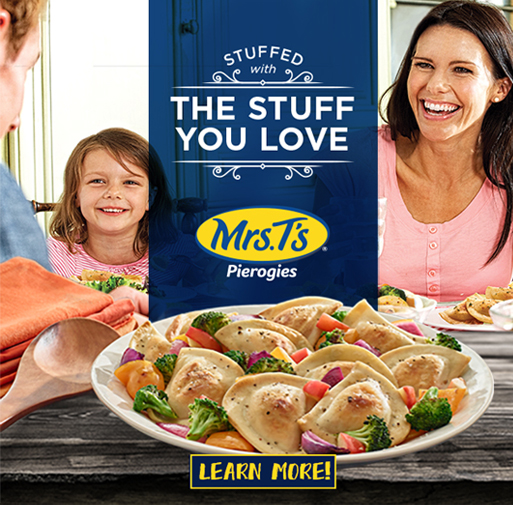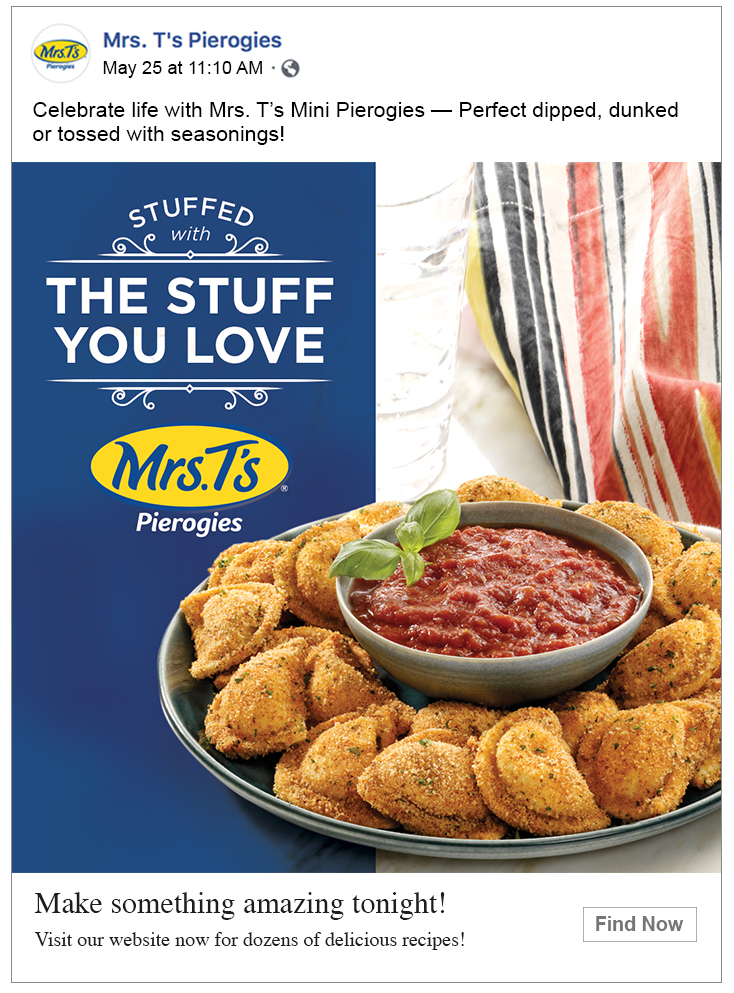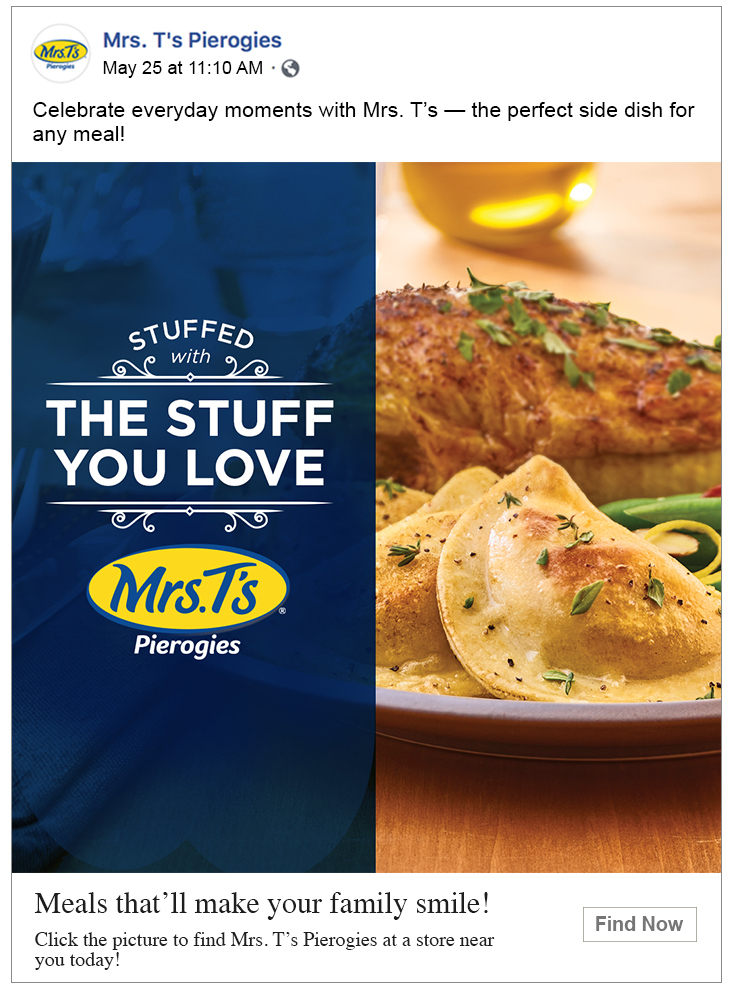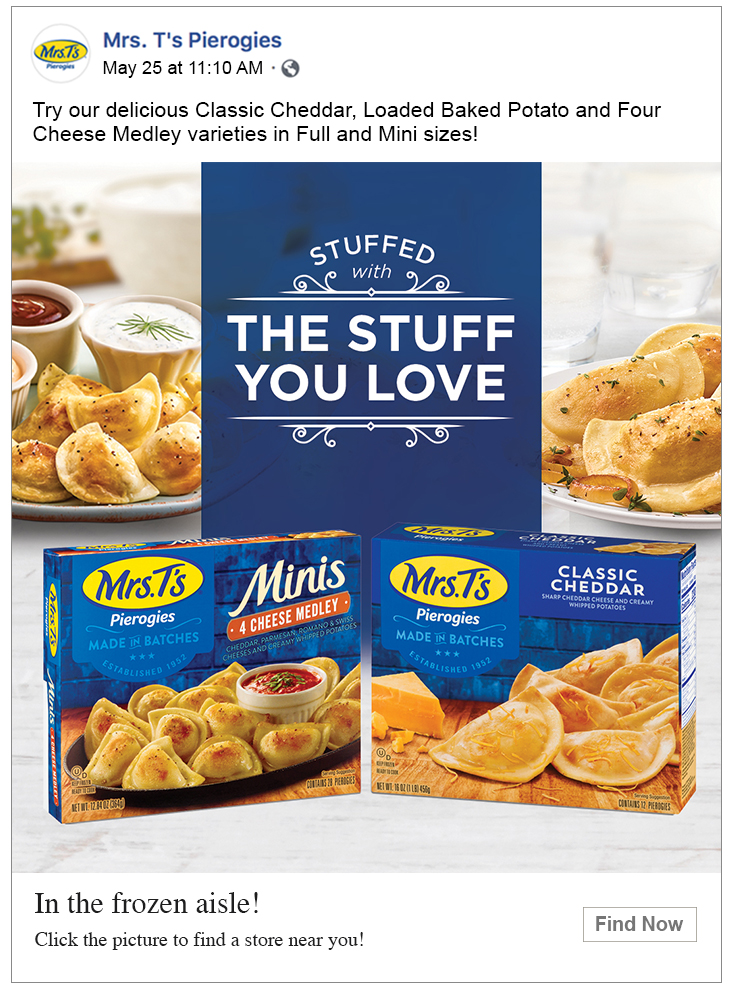 Radio
Traditional radio, sequential Pandora radio, and connected home spots were developed to reach consumers on-the-go, at home and at pre-and-post dinner time.
:30s Traditional Radio

:15s Pandora

:30 Pandora Connected Home
Email Marketing
Targeted eblasts were used to inspire creative product usage – and celebrate the changing of seasons.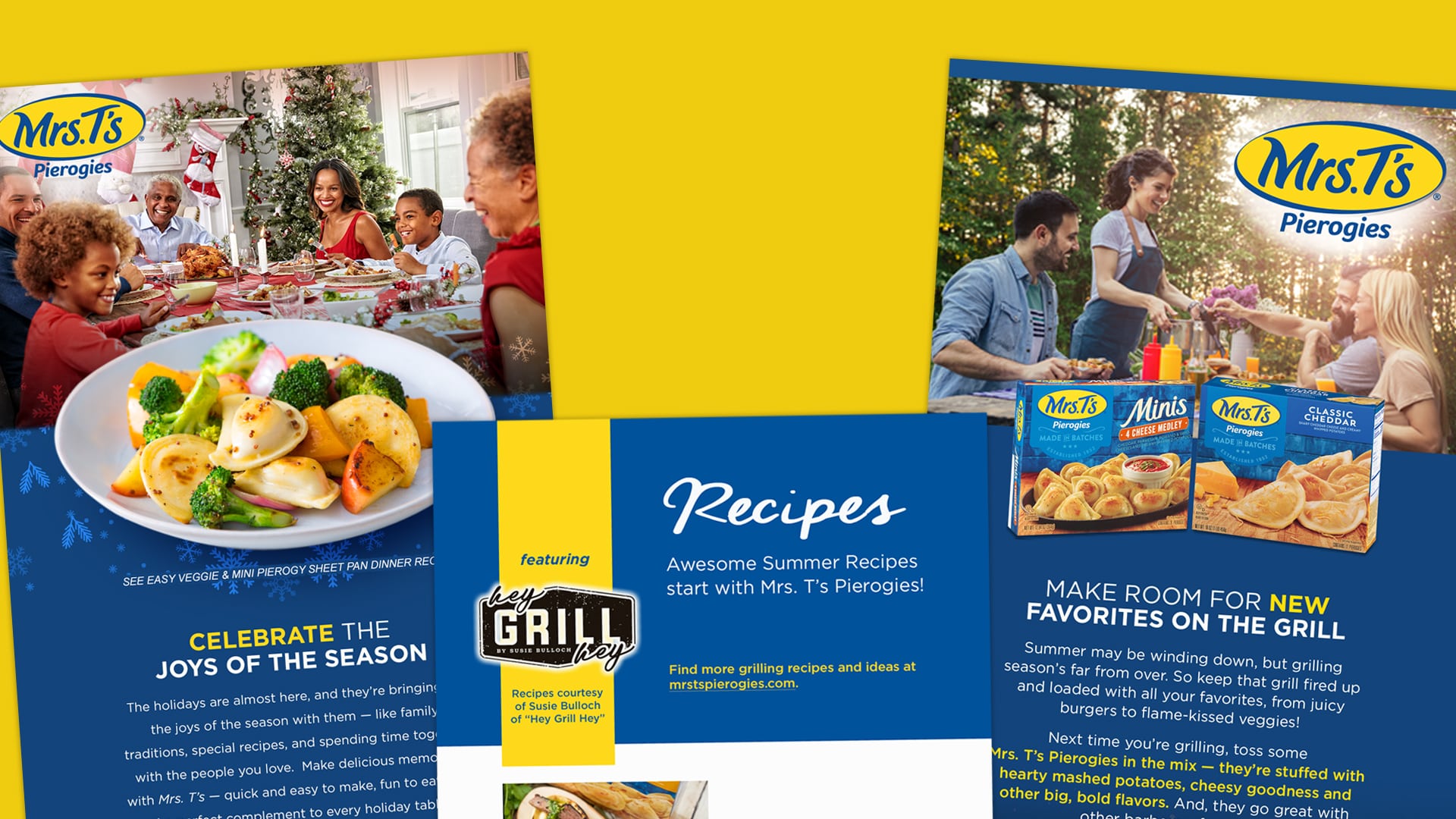 Netflix Promo
Playing off the popularity of TV binge-watching (and targeted directly at millennials), this promo giving away a year of Netflix Premium plus a year's supply of Mrs T's was a smash success.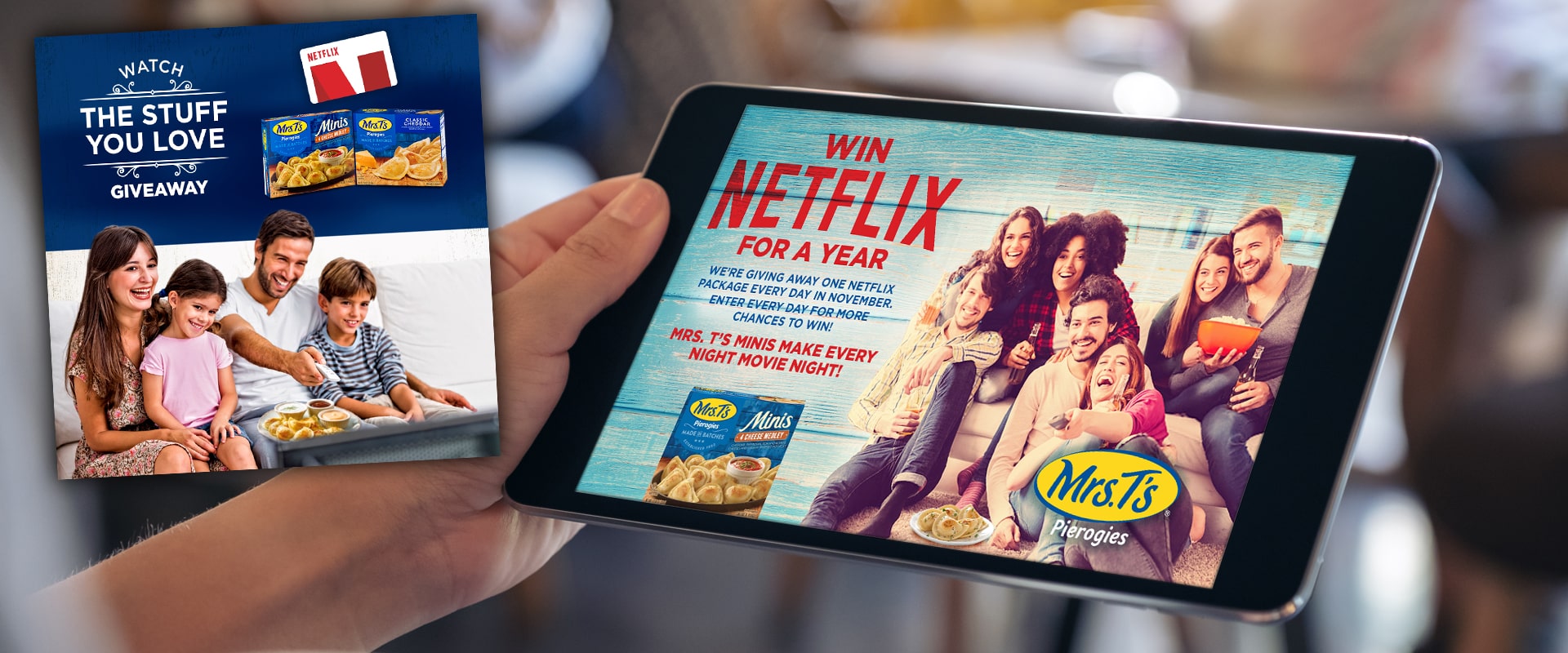 FSI
FSIs featured families and high-appetite, appealing photography of pierogies "to enjoy with the people you love."